"I love that I lucked into this second career and enjoy being a part of the local film crew."
I was born and raised in Savannah and have lived here my whole life. I have been married to my husband Thomas for 47 years!! We have two sons and four grandchildren. We live in the Beaulieu/Pinpoint area on the Moon River. I enjoy traveling, gardening, swimming, boating, cooking, and drinking fine wine. I love animals and have a dog, cats, chickens, and usually bees when I can keep them alive.
I retired from Savannah Chatham County School System in 2009 after thirty years, most of them at Isle of Hope Elementary. I started working in the film industry quite unexpectedly in 2012 on a horror film called The Sacrament. I've worked on nineteen projects, most recently the upcoming series The Underground Railroad along with my team. This past spring I had to train two of my colleagues to form a Terrific Teaching Team because I couldn't do all the work I was offered.
AWARDS & ACCOLADES
Lots of precious notes from my actor students!!
PRODUCTION STORIES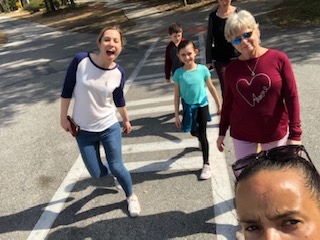 My first time on a film set was quite a shock. I was working on The Sacrament in Guyton, GA. It's a film about the Jim Jones massacre in Guyana. As I walked across the bridge from base camp to set for the first time, I saw many, many bodies lying in a large field – adults, children, and babies. Then a helicopter materialized low with a cameraman hanging out filming the scene. It was very creepy and quite an initiation into the world of film making!
SELECTED CREDITS
The Underground Railroad/ Studio Teacher / 2020
Love Takes Flight / Studio Teacher / 2019
Reckoning / Studio Teacher / 2019
Lost and Found / Studio Teacher / 2019
The Glorias / Studio Teacher / 2019
Lady and the Tramp / Studio Teacher / 2018
Clover Health Care Commercial / Studio Teacher / 2018
The Beach House / Studio Teacher / 2017
The Frontrunner / Studio Teacher / 2017
The Peanut Butter Falcon / Studio Teacher / 2017
Love at the Shore / Studio Teacher / 2017
Underground Season 2 / Studio Teacher / 2016
Gifted / Studio Teacher / 2015
Birth of a Nation / Studio Teacher / 2015
Andre 2000 / Studio Teacher / 2014
Left Behind Kids / Studio Teacher / 2014
SpongeBob Squarepants / Studio Teacher / 2013
Killing Winston Jones / Studio Teacher / 2012
The Sacrament / Studio Teacher / 2012